Make Father's Day Memorable!
Father's Day is coming up this Sunday, June 21st! We would like to thank all the fathers by putting together some fun activities, recipes, and gift ideas for the special dad in your life.
Find the perfect gift for dad with these 10 gift ideas:
Try these fresh recipes:
Spend some quality time with dad by trying these activities: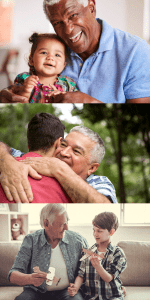 • Head out to the driving range
  • Take a walk around the block
  • Play a board game with the family
  • Play frisbee or another outdoor game with your loved ones
  • Go for a bike ride
  • Complete this outdoor scavenger hunt 
  • Build a fort out of blankets and pillows
  • Follow a tradition that he did with his dad!
Happy Father's Day!
---